Collection: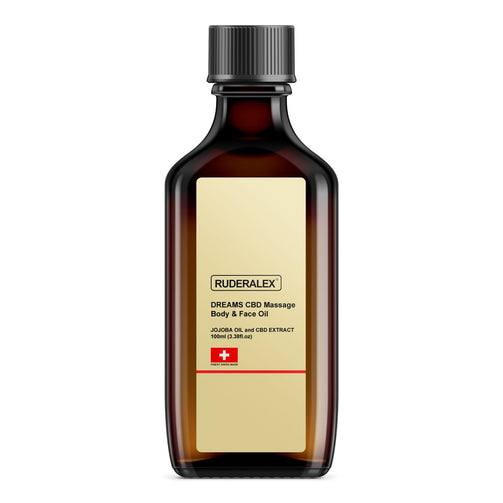 Collection:
DREAMS™ CBD Massage, Body & Face Oil
DREAMS™ CBD Massage, Body & Face Oil
Regular price

Sale price

£39.99
Key Features:
Rich Moisture Without The Greasy Shine

Aids in Skin Regeneration
The Jojoba Oil Waxy Consistency Creates a Protective Layer with Vitamin E
CBD Helps in Cell Regeneration and Muscle Relaxation
A Massage with Jojoba Oil and CBD Leaves You with a Long Lasting Pleasing Experience
How To Use:

For Massage - This is what DREAMS are made of, the oil is the perfect consistency to provide an ultra premium massage experience. Quickly absorbs for amazingly soft feeling skin. The relaxing properties of Cannabidiol effect the deeper layers of skin for a long lasting feeling of wellness.
For Body Care - Use after bath or shower to lock in moisture by gently massaging the CBD oil into the skin for self therapy.
For Face, Head & Hair - Apply a small amount oil to cleansed skin for increased moisture and elasticity. For stressed hair and head, apply to tips of hair and massage into scalp overnight and the rinse out with shampoo, leaving your hair and scalp with the much need moisture.
Ingredients:
Full Spectrum Bio Suisse Organic CBD Hemp Extract


Jojoba Oil

100ml Version Contains 500mg (0.5%) CBD