Collection: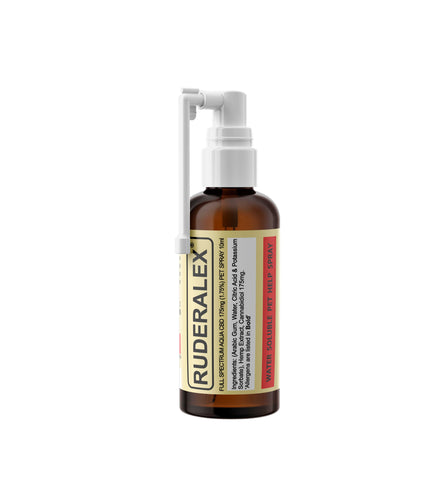 Collection:
Full Spectrum (1.75%) 175mg CBD HELP Water Soluble Spray For Pets 10ml
Full Spectrum (1.75%) 175mg CBD HELP Water Soluble Spray For Pets 10ml
Regular price

Sale price

£34.99
Key Features:
Can Be Used for Ingestion and Skin

Completely Soluble In Water
Controlled Dosing Applicator,

One Pump Corresponds to 0.5ml (8.75mg CBD)

Higher Absorption Rate and Uptake than Oil
Patented Micelle Technology

100% Natural Ingredients

Lab Tested For Verified Quality
Contains no-GMOs, Pesticides, or Contaminants
Produced to the Highest Bio Suisse Standards
Premium Ingredients:
Bio Suisse Organic Full Spectrum Hemp Extract 2.5% 250mg

CBD Content 1.75% 175mg

Arabic Gum, Citric Acid, Potassium Sorbate & Water

Contains less than 0.2% THC
Size 10ml
This CBD product has been designed as an emergency solution for your pet cats and dogs. Based on the findings of (WHO) World Health Organization, CBD is found to be safe for animal usage.
Directions:
Spray RUDERALEX HELP spray directly in your pets mouth or throat based on the following dosage guidelines:
Up to 9 kg body - 1 pump
Up to 24 kg body - 2 pumps
25 kg+ body - 3 pumps
For skin conditions spray directly onto the affected area.
Dosing is only a guideline and you may have to adjust dose and frequency according to your pets needs.
Repeat application every 6 to 8 hours, however must not be used on a long term basis. For a longer regular dosing regime, we recommend using our RUDERALEX pet CBD oils which can also be given in precise amounts.